As the first post, here is Namie Amuro, a gorgeous Japanese pop singer. She has an amazing voice and a pretty unique look. *shares*
Hello! I think I'm the first real post-- HAWT DOG! Hey, my name is Hayley, I come from the bishie_daily community. ^^
Current Music:

Phantom - Janne da Arc
WELCOME TO BIJIN DAILY!
This is a new community based off of the highly successful
bishie_daily
, but instead of posting handsome guys, we're going to give the girls some love! Whether you want them or want to BE them, Asian idols are some of the most beautiful in the world and it's hard to deny.
Feel free to start posting, just be sure to check out the community rules in the
profile
first! Remember,
friendslock
all your entries here,
all posts must include at least one photo
even if it is a request post, and you must post
a preview image no larger than 300x300 pixels
. Once we get some members, maybe we can start up some themes and contests! I'm not formally advertising yet since I'm waiting for affiliation approval from
bishie_daily
, but you can definitely tell your friends about this community all you want. Thanks for stopping by!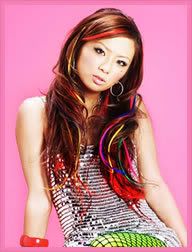 Current Mood:

hopeful

Current Music:

James Taylor - Steamroller (live)